Quest'anno gli Europei di basket si disputano e l'Italia avrebbe giocato proprio ad Alicante. Mia sorella e suo marito erano in vacanza nostri ospiti. Mike è appassionato di basket. Giocava da piccolo e va a tutte le partite di serie C della squadra locale di cui il padre è dirigente. Ci rimase male, a quanto pare gli Europei di pallacanestro li tengono sempre ad Agosto.
Io sono calciofilo, del basket mi frega poco. Però l'evento è allettante, c'è la Rai, ci sono i tifosi al seguito. Ala mi dice che se ne è parlato in ufficio, che i biglietti sono costosi ed introvabili. La fa lunga perché non ha voglia di andare. Chiamo il call center per la prevendita ma non mi fanno capire molto. La gestione è farraginosa. Ala mi dice che qualcuno vende un biglietto per la terza giornata, quella di Italia-Polonia. Lei non può venire, va a Bruxelles per lavoro: via libera!
Il giorno della partita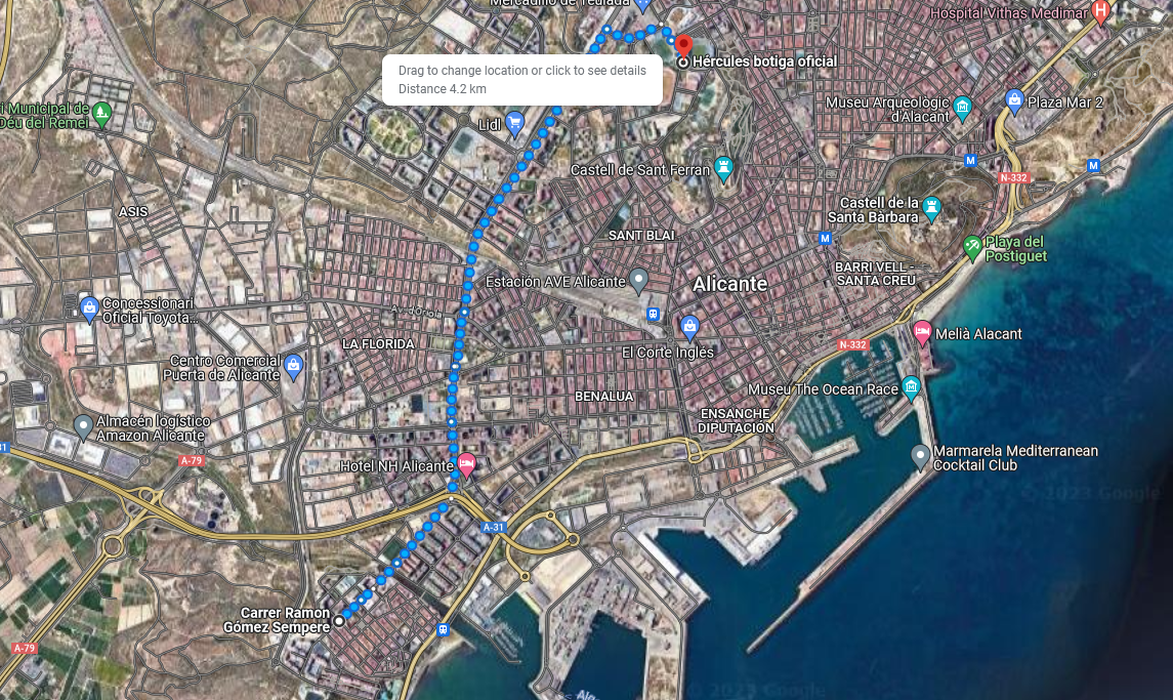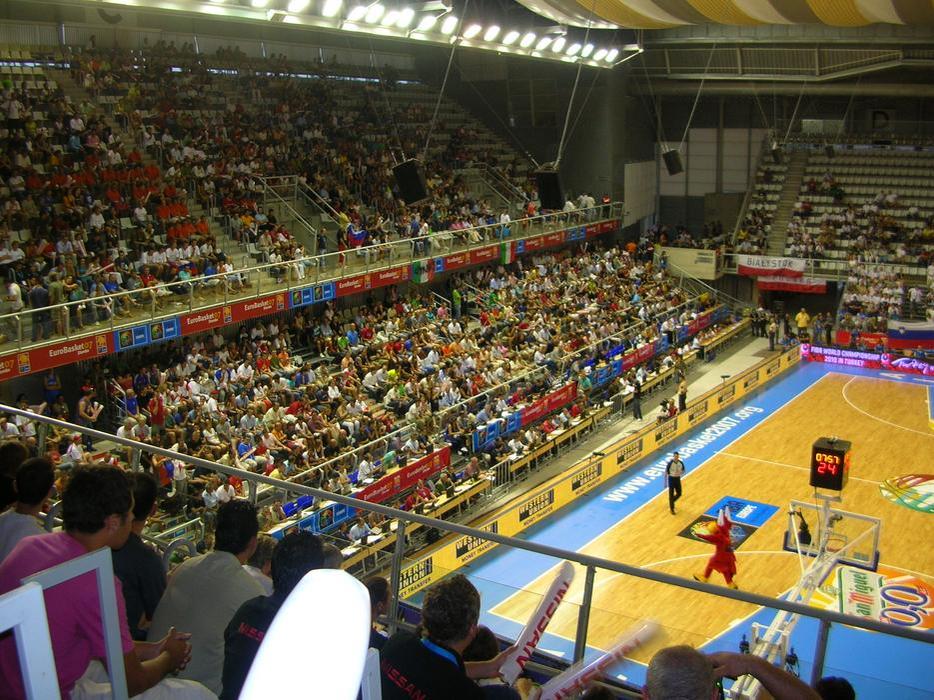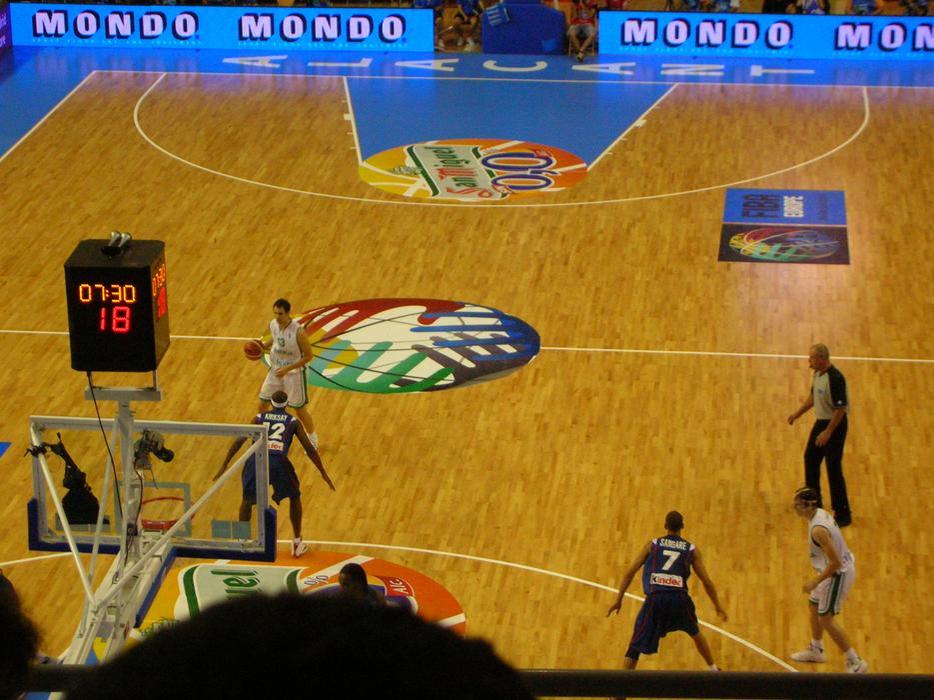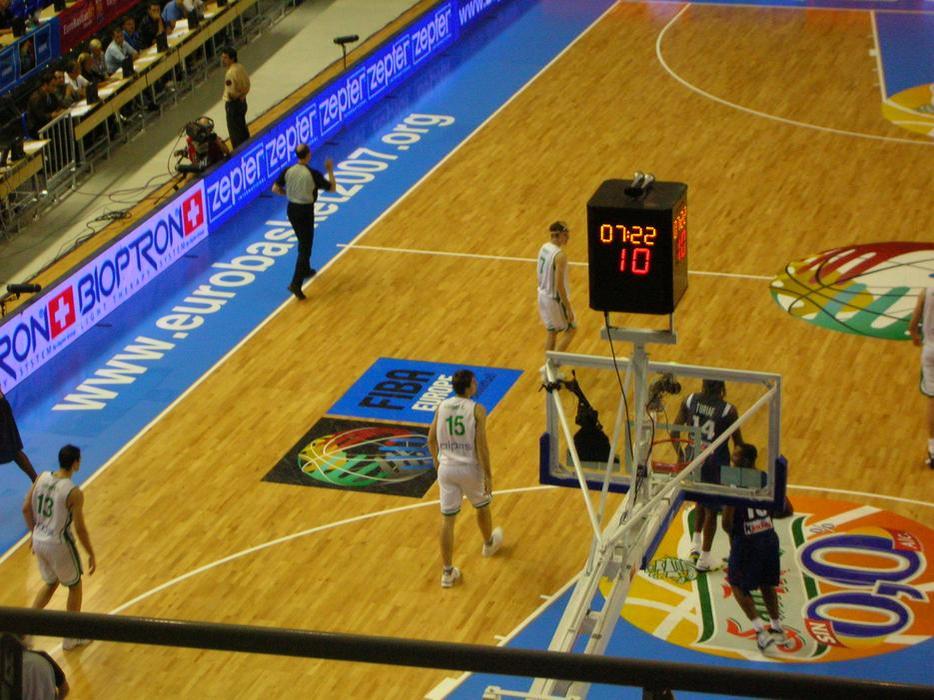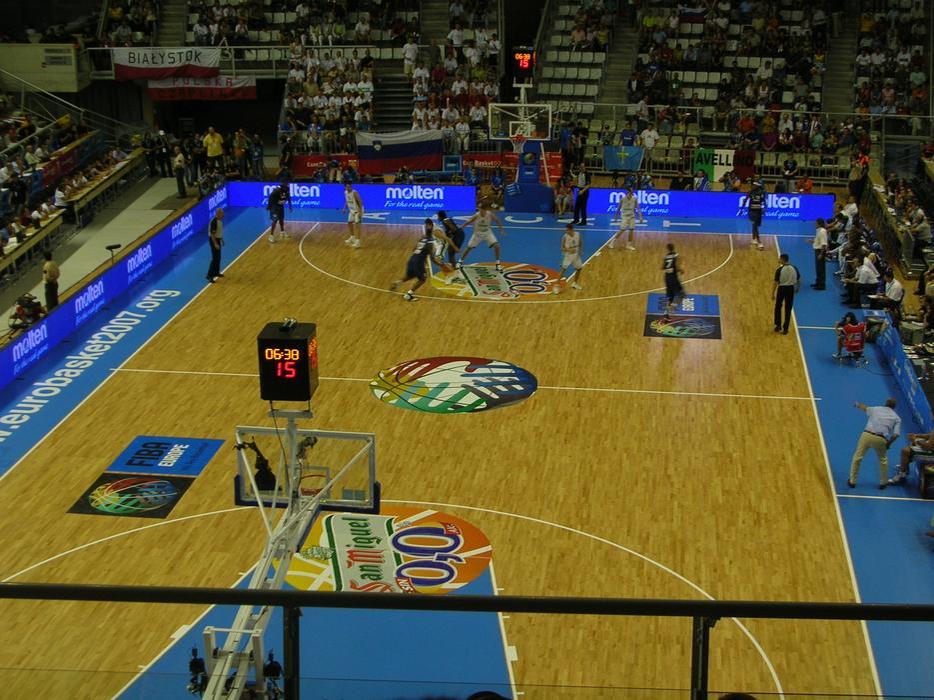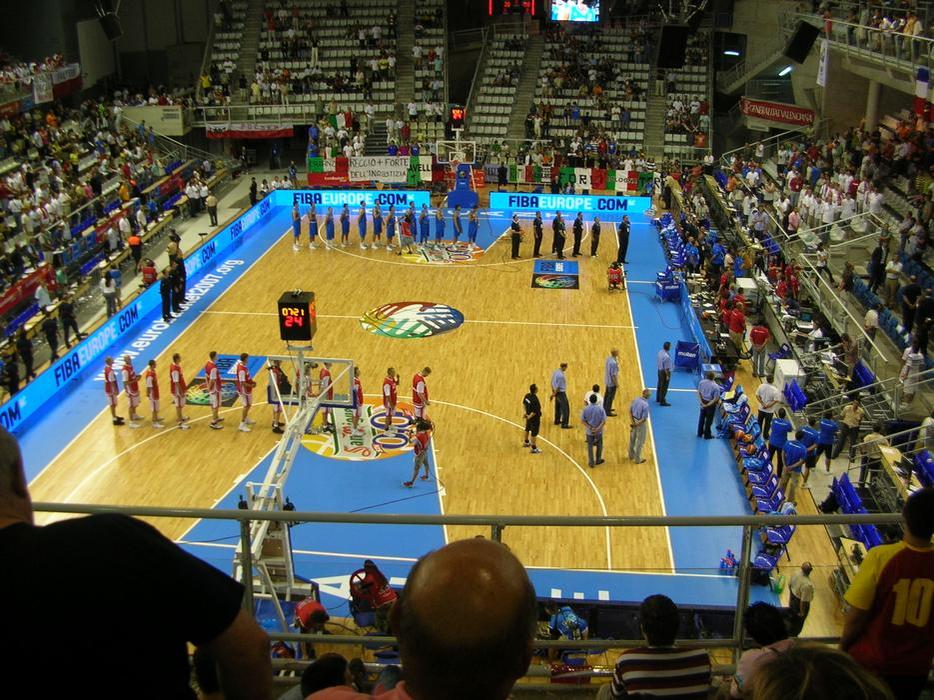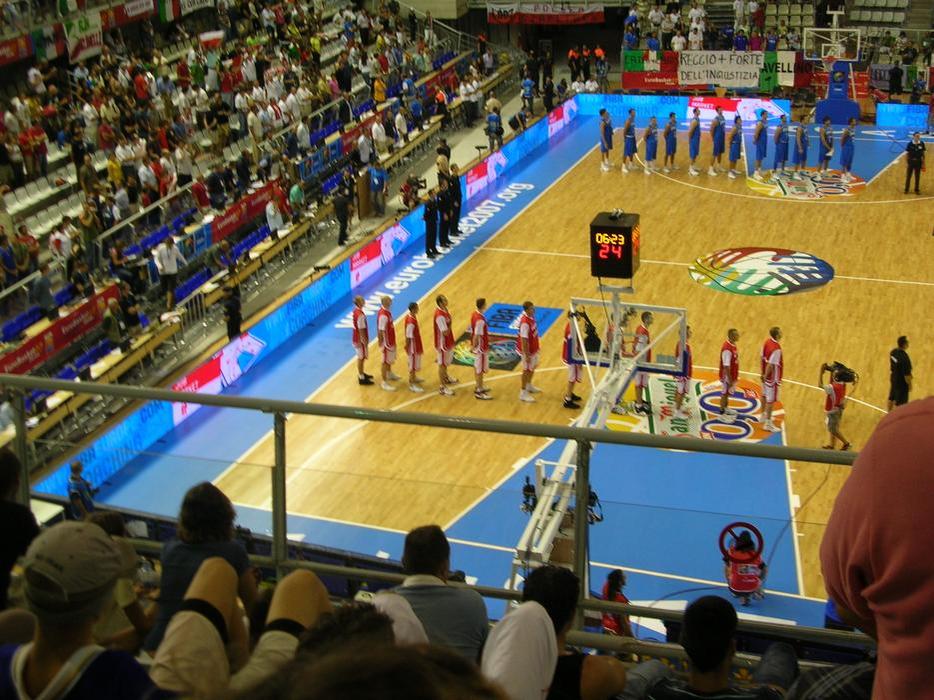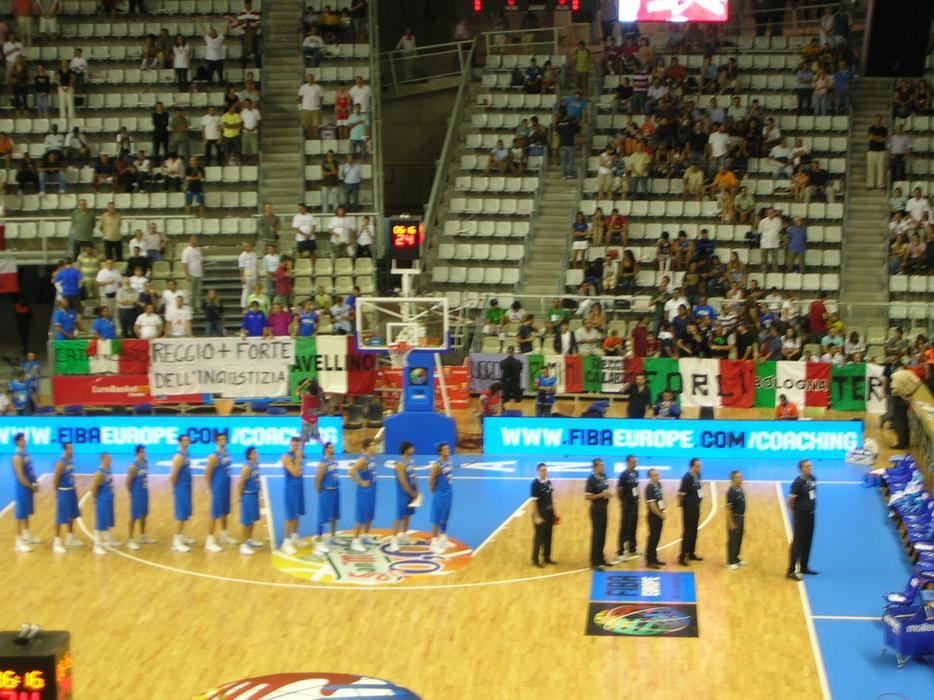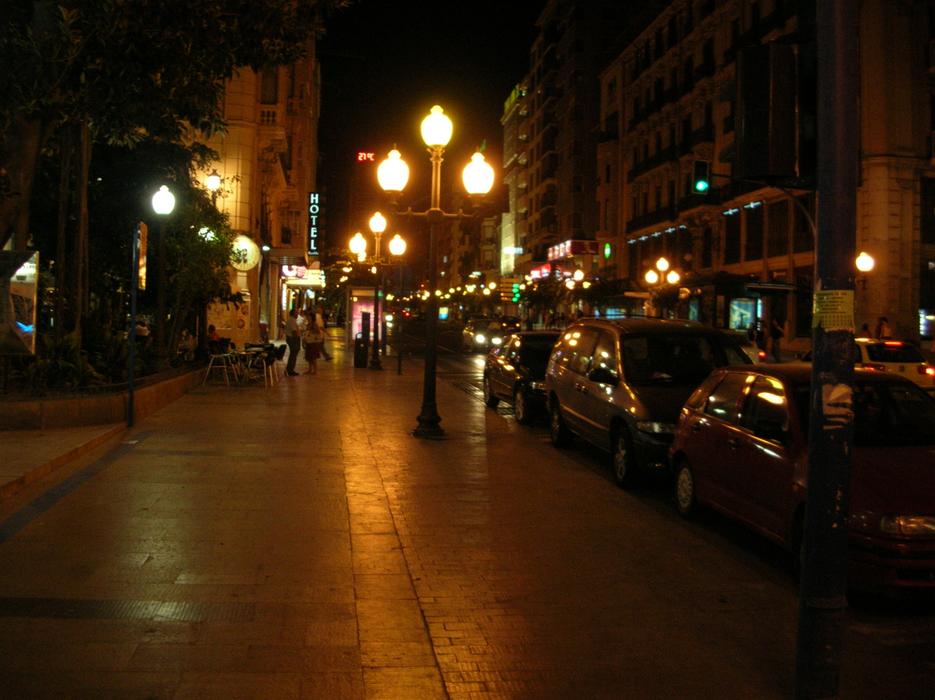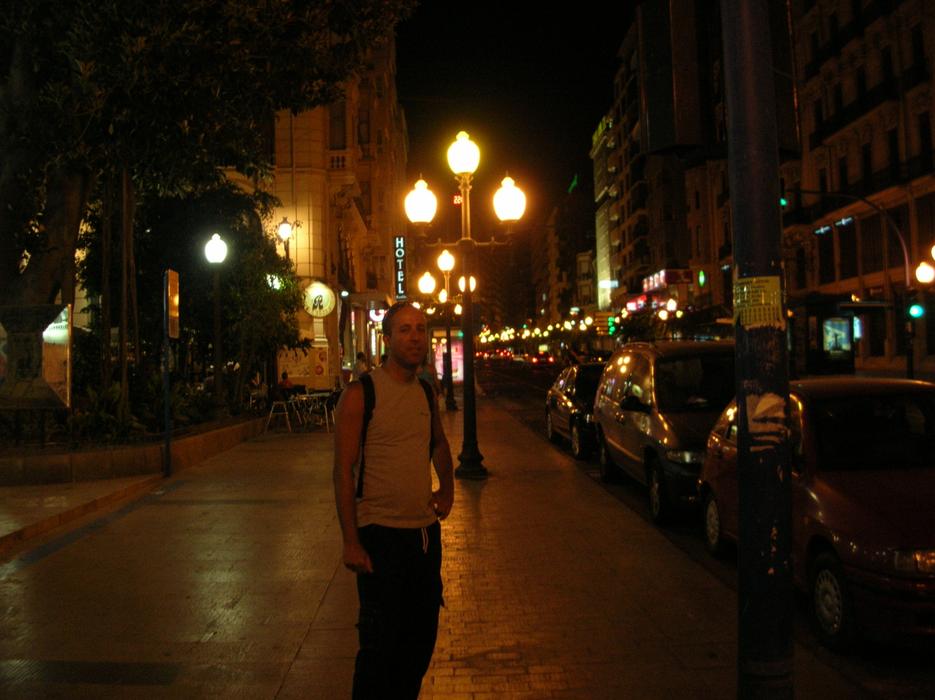 Ultimamente mi voglio autoconvincere che della macchina se ne puó fare a meno. Con il trolley per la spesa compri dove vuoi, e poi la città non è enorme, volendo la si percorre a piedi tutta e fa anche bene, altro che. Metto lo zainetto in spalla e vado.
Alicante topograficamente parlando, è facile da inquadrare. E' come un semicerchio poggiato sul mare, con la Gran Via che fa da guscio. Le strade di accesso la attraversano come tanti spilli conficcati in un cuscinetto. Io vivo sul più meridionale di questi spilli. Per arrivare al Palazzetto devo percorrerlo tutto più un terzo di Gran Via. Al centro a piedi ci vado di frequente, ci vogliono 45 minuti e a giudicare dalla mappa lo stadio sembra meno lontano. Oggi però piove e l'enorme arteria non è pensata per i pedoni, il palazzetto è dietro un lungo pendio in salita. Percorrere a piedi strade a scorrimento veloce è frustrante, rende sgradevole il tragitto, allontana nella percezione la meta. Diciamola tutta: a volte è bello fare a meno della macchina ma non sempre.
Il merchandising
Desidero un vessillo, una bandiera, qualcosa che mi consenta di affermare la mia identità sportiva. Abituato agli stadi Italiani, mi aspetto la selva di bancarelle, abusivi, bagarini, venditori di salsicce tipica di ogni antistadio Italiano, Milano e Torino incluse, nei giorni di partita. Il tutto gestito o controllato da mafie di vario assortimento. Invece non c'era nulla. A vendere gadget, bibite e vivande sono solo i punti vendita ufficiali all'interno. Prendo una sciarpa tricolore con il logo dell'europeo e la mascotte del torneo per mia nipote, a prezzi tutt'altro che di saldo. Il merchandising è una gallina dalle uova d'oro. Qui non sarà la Svizzera ma la legalità la fanno rispettare un pò in più. Questa è una delle ragioni per cui i club spagnoli navigano nell'oro mentre i nostri passano il tempo a mendicare trattamenti fiscali agevolati, regalie e stadi costruiti e mantenuti con i soldi dei comuni, cioè anche di coloro che di calcio o di basket o di rugby o di Tiro al piattello se ne fregano ben poco. L'ennesimo prezzo che paghiamo per consentirci tanta trasbordante ed inestirpabile illegalità sebbene non il più grosso.
L'aria serena del basket
Dentro il clima è da idillio Decoubertiano. I tifosi sono mischiati, non ci sono ultras, si tifa senza malanimo.
Scrivo a Mike. Gli dico di accendere la TV perché sono al palazzetto. La Slovenia è sotto, ma gioca bene. E' una squadra giovane zeppa di talenti mi dicono dei ragazzi sloveni. Ad una manciata di secondi dalla fine sorpassa la Francia delle star poi il tiro libero del pareggio finisce sul ferro. Bel finale. I Francesi smettono di ritmare il celeberrimo tormentone dei Seven Nations Army, il famoso poporopopo da mondiale vinto. Pensavo fosse nostra esclusiva prerogativa ma mi sbagliavo.
Rimango calciofilo
Non ho mai capito perché il calcio non possa essere vissuto alla stessa maniera. Sempre si dice 'vedete? Il Rugby è diverso, la pallavolo è diversa, il basket è diverso'. Come dargli torto è proprio così. Non fosse per il rumore assordante penserei di essere a teatro. Sono sport di nicchia con tre milioni di tifosi. Ne avessero trenta, rappresentassero gli umori profondi di una nazione, anche i più beceri e rancorosi, godessero di un livello quasi universale di partecipazione emotiva, come è per il calcio, dubito riuscirebbero a salvarsi.
Mi godo la festa, la serata diversa sapendo che domani tornerò ai miei vizi. Lo sport senza 'nemici' è come la birra analcolica, il caffè senza caffeina, il te senza teina: fanno bene ma non scaldano il cuore. Non c'è gusto a vedere partite senza il terrore sacro che se il risultato non è quello che vuoi il giorno dopo i 'nemici' ti mettono sulla graticola e viceversa.
Tocca all'Italia
L'Italia partiva tra le favorite, poi tra cali di forma ed infortuni aveva perso quota nei pronostici e con essa anche le prime due partite. Se perde va a casa. Mike mi aveva giurato e spergiurato che con la Polonia sarebbe stata una passeggiata. Ma dopo dieci minuti siamo sotto di due punti. Riscrivo. "Sicuro che vinciamo?" mi risponde dopo dieci minuti quando l'Italia è avanti di dieci " La sto vedendo in TV! Fatti vedere! Fai invasione di campo! Molesti sti polacchi ma vinciamo". Ci sono posti liberi nella prima fila a ridosso della balaustra che da sul campo. Non vengo inquadrato, però il campo è vicinissimo, si vedono le facce, si sente il rimbalzo del pallone, l'evento è vicino, ci sei dentro. L'Italia va a folate. Gioca benissimo e accumula punti, poi si rilassa. La Polonia rientra prima del nuovo allungo azzurro. Si riavvicina più volte ma alla fine perde. Siamo salvi, non si sa per quanto. Avrei sperato l'Italia riuscisse a trionfare come spesso succede quando nessuno darebbe più un centesimo: Sciarpa e mascotte finivano di sicuro su ebay ma i miracoli raramente si ripetono.
Il lungo ritorno a casa
Ho fame e mi dirigo verso il centro sempre a piedi. Sbaglio strada e allungo un po'. Le strade sono vuote e fa una certa impressione ma non è una città pericolosa. Spunto dalle parti della stazione Renfe, le ferrovie spagnole. Il Burger King sta chiudendo, non c'è molto altro. Imbocco Alfonso Savio e punto alla Rambla. E' la strada commerciale, di giorno brulica di attività ma a mezzanotte è vuota. Alicante ha la reputazione di città che vive di notte, ma la verità è che la vita notturna è concentrata nelle poche centinaia di metri quadri del Casco Antiguo, tra Rambla e Castillo. Sfrutto il deserto per fregarmi un poster "Alicante a Escena" la rassegna di teatro amatoriale. E' per Ala, lo troverà appiccicato alla porta della cucina al ritorno dall'effervescente Belgio. Dice che le manca il fervore culturale di Varsavia. Dice che qua sono tutti superficiali, di non riuscire a trovare persone intellettualmente coinvolte. Sarà, ma se non le cerca è difficile. Frequenta principalmente colleghi. Cosa che detesto. Passi, e a fatica, che sia il mio datore di lavoro a decidere del 90% del mio tempo, della posto dove devo vivere, del grosso delle cose che faccio. Che debba decidere delle mie amicizie e magari scegliermi il partner mi sembra troppo. Si, sono decisamente retrò ed anti-moderno.
La rambla è un confine, è una sorta di linea verde tra la parte di città che vive di giorno e di notte si svuota ed il Barrio che non ha negozi e traffico e si riempie solo dopo le dieci. E' l'unico segmento di città sempre popolata, round-the-clock. Pensavo alle Tapas ma non hanno un aspetto invitante e decido per un kebab. Ci sono Sloveni in festa dovunque. Ci sono Italiani, ma più dimessi, per oggi scampato pericolo, ma durerà poco.
Non me la sento di tornare a casa a piedi. Dopo le 11 i bus non passano più. Faccio la coda per il taxi, mezz'ora. Le strade sono sgombre, mi costa sei Euro. Un'altra delle ragioni per cui qui si può fare a meno della macchina. Ma questo merita una post a parte.
This year, the European Basketball Championships are taking place, and Italy would have played in Alicante. My sister and her husband were our guests on vacation. Mike is passionate about basketball. He played since he was young and attends all the local team's Serie C matches, where his father is a manager. He was disappointed because apparently the basketball championships are always held in August.
I'm a football fan, so I don't care much about basketball. However, the event is tempting. It's on TV, and there are fans following it. Ala tells me that it was discussed in the office, and the tickets are expensive and hard to find. She goes on and on because she doesn't feel like going.
I call the call center for pre-sale, but they don't make me understand much. The management is confusing. Ala tells me that someone is selling a ticket for the third day, the Italy-Poland match. She can't come; she's going to Brussels for work: clearance!
The day of the match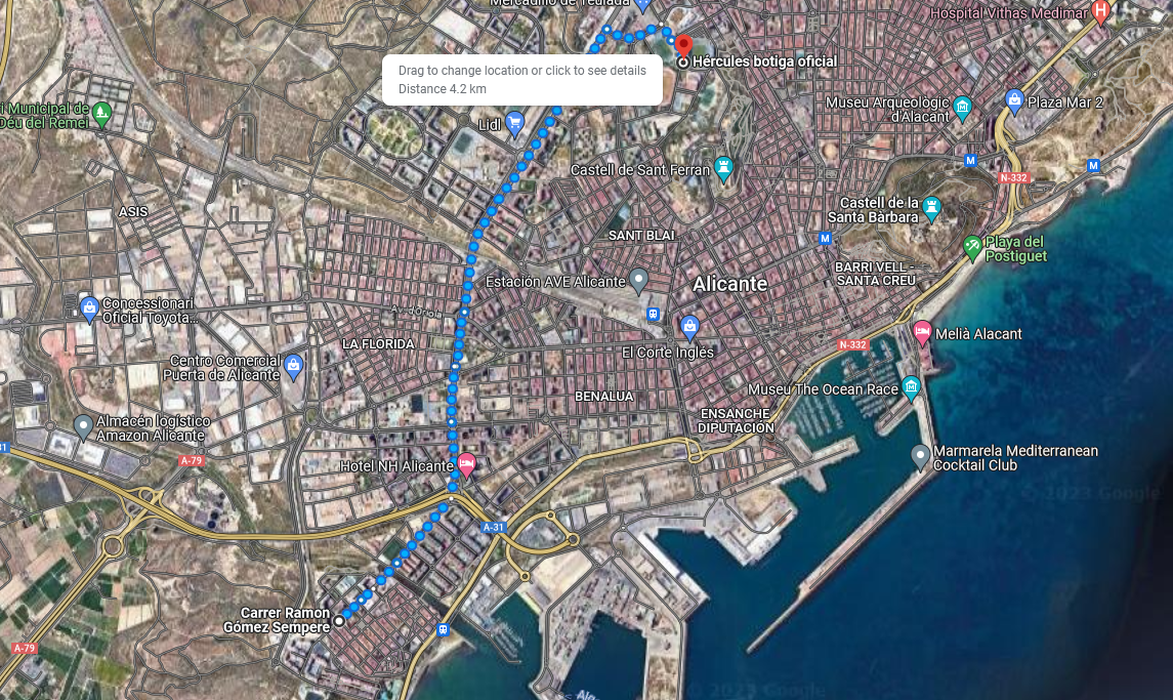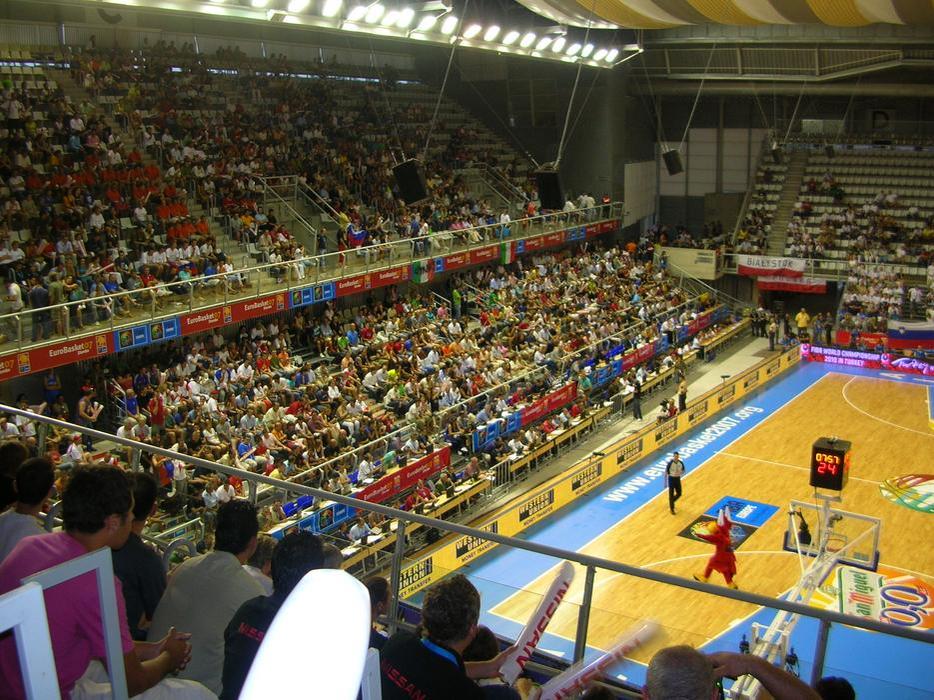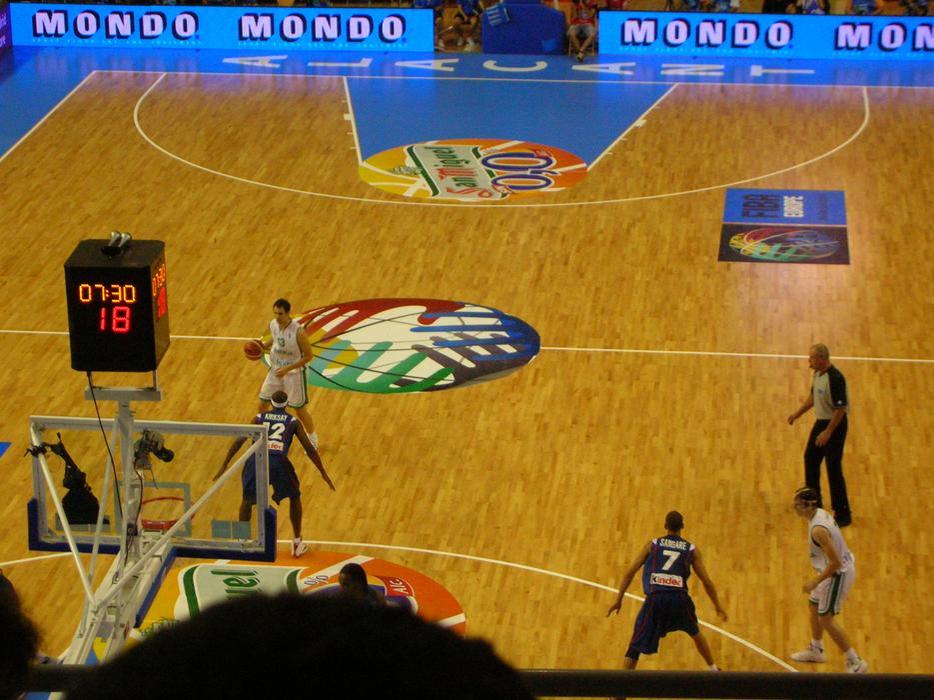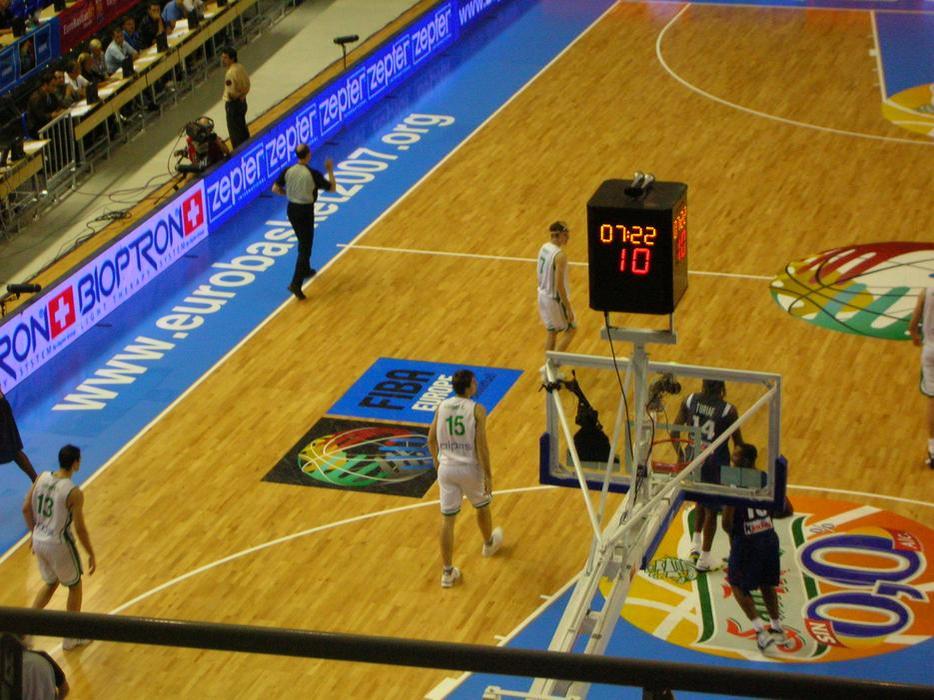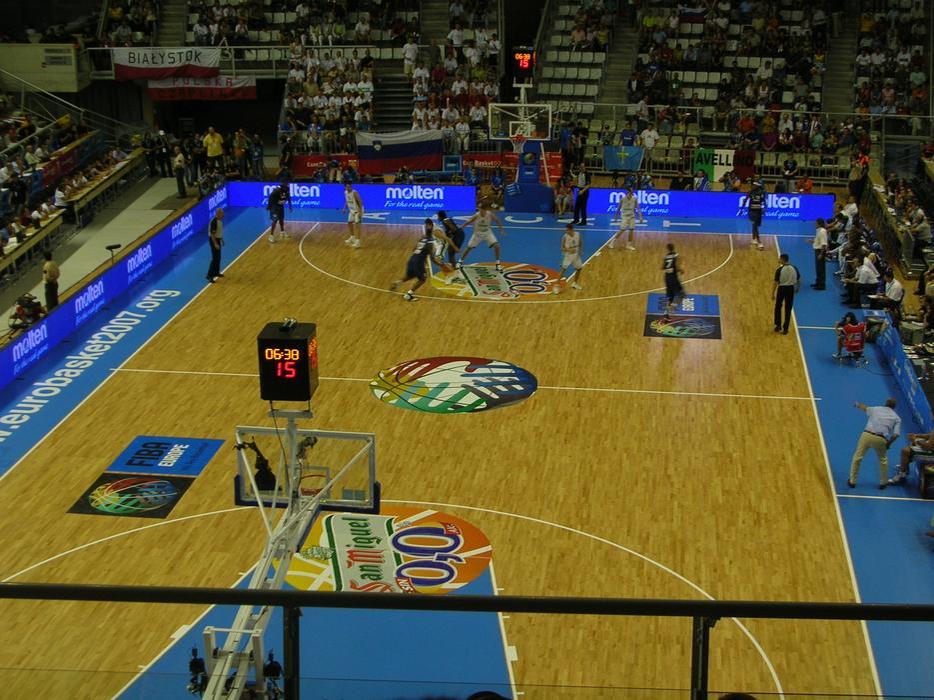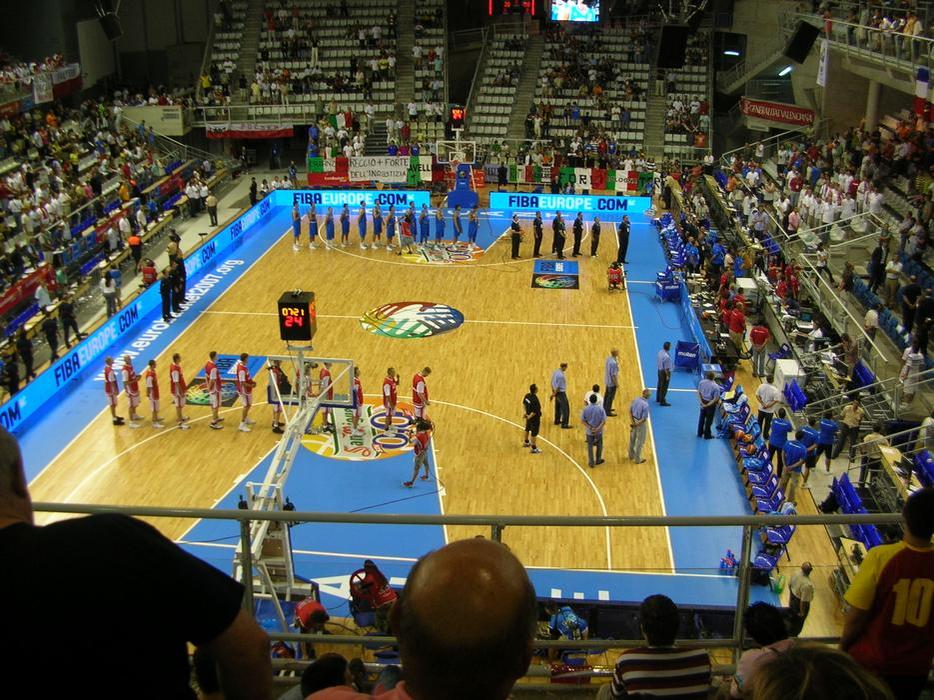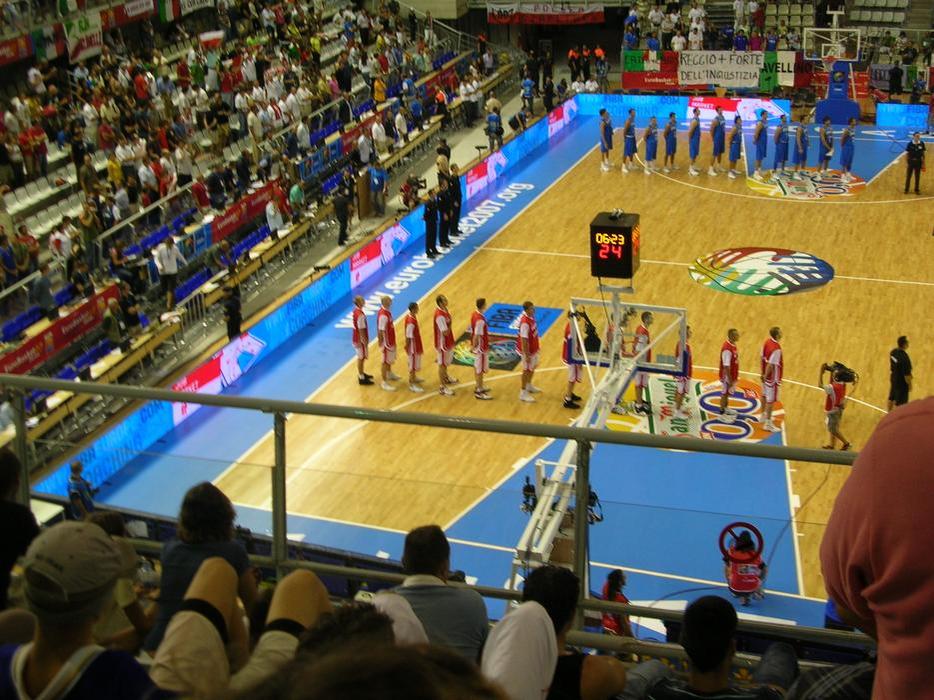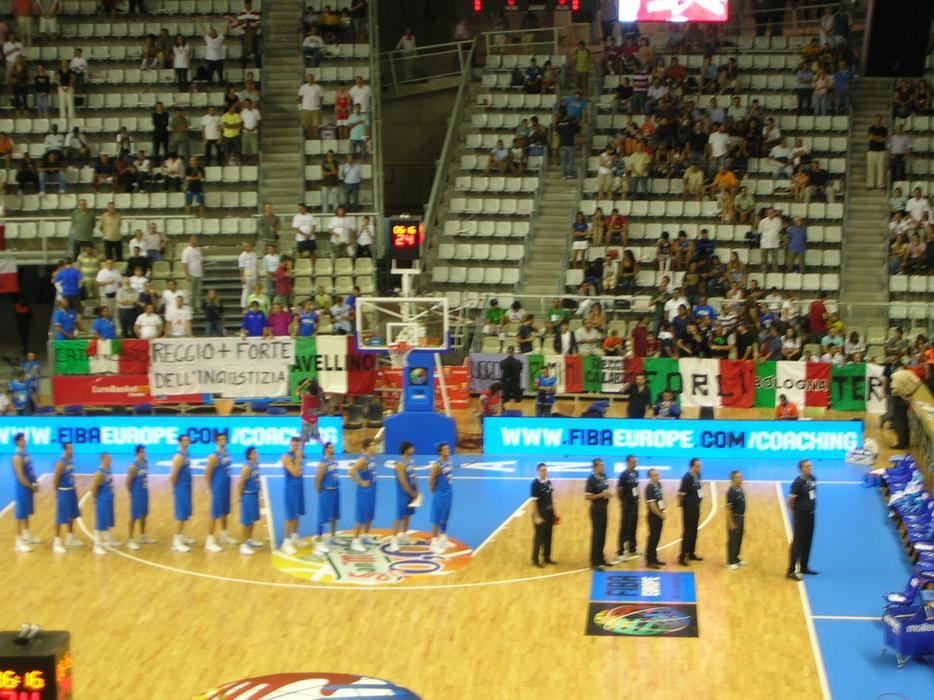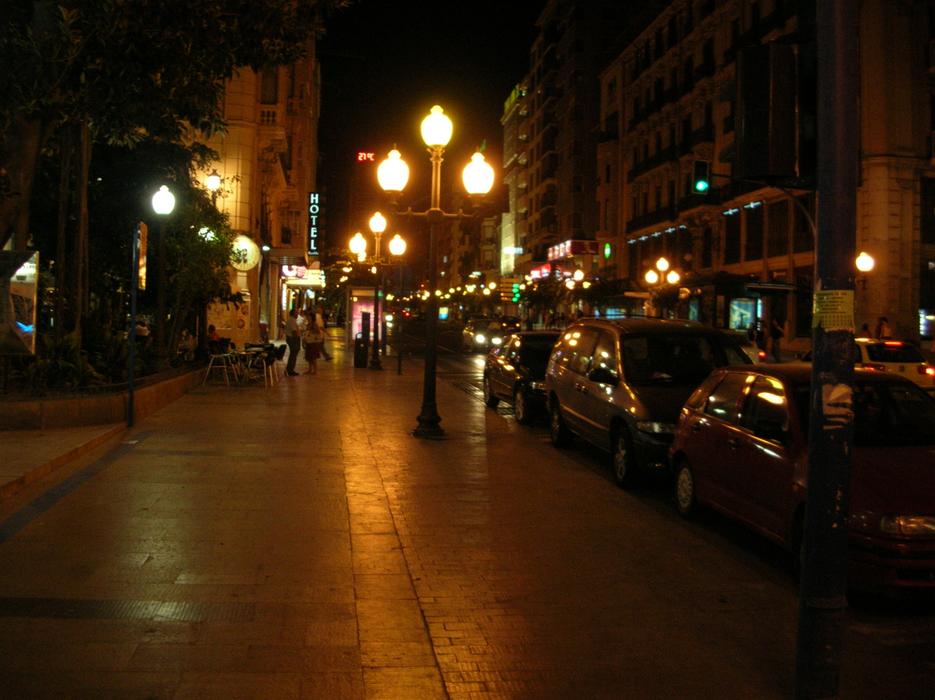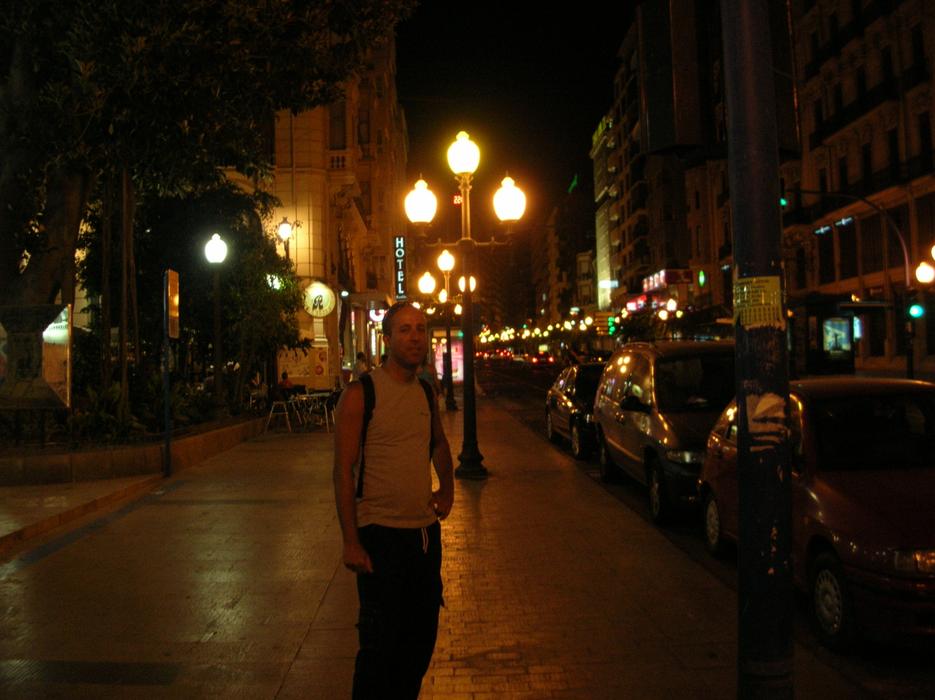 Lately, I want to convince myself that I can do without the car. With the shopping trolley, you can buy wherever you want, and the city is not huge. If you want, you can walk all of it, and it's good for you too. I put on my backpack and go.
Alicante, topographically speaking, is easy to grasp. It's like a semicircle resting on the sea, with Gran Via acting as its shell. The access roads cut through it like many pins stuck in a cushion. I live in the southernmost of these pins. To reach the arena, I have to walk along Gran Via for about a third of its length. I frequently walk to the city center, which takes 45 minutes, and judging by the map, the stadium seems closer. However, it's raining today, and the huge artery is not designed for pedestrians. The arena is behind a long uphill slope. Walking on fast-flowing roads is frustrating and makes the journey unpleasant, distancing the destination in perception. Let's be honest: sometimes it's nice to do without the car, but not always.
Merchandising
I want a flag, a banner, something that allows me to express my sports identity. Used to the Italian stadiums, I expect a forest of stalls, illegal sellers, scalpers, and vendors of typical sausages found at every Italian stadium, including Milan and Turin, on match days. All of it managed or controlled by various mafia groups. Instead, there was nothing like that. Only official outlets inside sell merchandise, beverages, and food. I buy a tricolor scarf with the logo of the European Championship and the tournament's mascot for my niece, at far from discounted prices. Merchandising is a cash cow. It may not be Switzerland here, but they enforce legality a bit more. This is one of the reasons why Spanish clubs swim in money while ours spend time begging for tax breaks, gifts, and stadiums built and maintained with the money of municipalities, including those who couldn't care less about football, basketball, rugby, or clay pigeon shooting. It's just another price we pay to allow such overflowing and uneradicable illegality, although not the biggest one.
The serene atmosphere of basketball
Inside, the atmosphere is idyllic, almost Decoubertian. Fans are mixed; there are no ultras, and cheering happens without animosity.
I message Mike. I tell him to turn on the TV because I'm at the arena. Slovenia is trailing, but playing well. They say the Slovenian guys are a young team packed with talent. A few seconds before the end, they overtake the star-studded French team, but the game-tying free throw hits the iron. Exciting finish. The French stop chanting the famous Seven Nations Army anthem, the popular poporopopo from the World Cup victory. I thought it was our exclusive prerogative, but I was wrong.
Remaining a football enthusiast
I have never understood why football cannot be experienced in the same way. People always say, "See? Rugby is different, volleyball is different, basketball is different." How can I blame them? It's true. If it weren't for the deafening noise, I would think I'm in a theater. These are niche sports with three million fans. If they had thirty million and represented the deep moods of a nation, including the cruder and more resentful ones, enjoying an almost universal level of emotional involvement as is the case with football, I doubt they would survive.
I enjoy the celebration, this different evening, knowing that tomorrow I will return to my vices. Sports without 'enemies' are like non-alcoholic beer, caffeine-free coffee, or decaffeinated tea: they are good for you but don't warm the heart. There is no pleasure in watching matches without the sacred terror that if the result isn't what you desire, the next day the 'enemies' will put you on the grill and vice versa.
Italy's turn
Italy started as one of the favorites, but with drops in form and injuries, they lost ground in the predictions and also lost the first two matches. If they lose, they go home. Mike swore to me that it would be like a stroll in the park against Poland. But after ten minutes, we're down by two points. I write again, "Are you sure we'll win?" He replies after ten minutes when Italy is ahead by ten, "I'm watching it on TV! Show yourself! Invade the field!" There are empty seats in the front row near the railing overlooking the court. I'm not on camera, but the court is very close, you can see the faces, hear the ball bounce. The event is close; you're part of it. Italy goes on a scoring spree. They play exceptionally well and accumulate points, then relax. Poland comes back before Italy's next surge. They get closer several times, but in the end, they lose. We are safe, but for how long, no one knows. I had hoped Italy would triumph, as often happens when no one would give them a penny. The scarf and mascot would surely end up on eBay, but miracles rarely happen again.
The long journey back home
I'm hungry and head towards the city center on foot. I take the wrong street and go a bit out of my way. The streets are empty, which is somewhat eerie, but it's not a dangerous city. I pass by the Renfe station, the Spanish railways. Burger King is closing, and there's not much else around. I take Alfonso Savio and aim for the Rambla. It's the commercial street, bustling with activity during the day, but empty at midnight. Alicante has a reputation for being a city that comes alive at night, but the truth is that nightlife is concentrated in the few hundred square meters of the Casco Antiguo, between Rambla and Castillo. I take advantage of the deserted area to grab a poster for "Alicante a Escena," the amateur theater festival. It's for Ala; she'll find it stuck to the kitchen door when she returns from bustling Belgium. She says she misses the cultural fervor of Warsaw and that everyone here is superficial, unable to find intellectually engaged people. Maybe, but if she doesn't look for them, it's difficult. She mainly hangs out with colleagues, which I detest. It's one thing, a difficult one at that, for my employer to decide about 90% of my time, where I have to live, and most of the things I do. But for them to decide my friendships and maybe even choose my partner is too much. Yes, I'm definitely old-fashioned and anti-modern.
The Rambla is a boundary, a sort of green line between the part of the city that thrives during the day and empties at night, and the Barrio, which has no shops or traffic and only fills up after ten. It's the only segment of the city that's always populated, round-the-clock. I thought about Tapas, but they don't look inviting, so I decide on a kebab. There are Slovenians celebrating everywhere. There are Italians too, but more subdued, having escaped the danger for today, but it won't last long.
I don't feel like walking back home. After 11 PM, the buses don't run anymore. I join the queue for a taxi, which takes half an hour. The streets are empty, and it costs me six euros. Another reason why you can do without a car here. But that deserves a separate post.
Este año se están llevando a cabo los Campeonatos Europeos de Baloncesto y Italia iba a jugar en Alicante. Mi hermana y su esposo fueron nuestros invitados de vacaciones. Mike es un apasionado del baloncesto. Juega desde joven y asiste a todos los partidos del equipo local de la Serie C, donde su padre es gerente. Estaba decepcionado porque al parecer los campeonatos de baloncesto siempre se celebran en agosto.
Soy fanático del fútbol, así que no me importa mucho el baloncesto. Sin embargo, el evento es tentador. Lo transmiten por televisión y hay fanáticos siguiéndolo. Ala me dice que se habló de ello en la oficina y que las entradas son caras y difíciles de encontrar. Ella sigue y sigue porque no tiene ganas de ir.
Llamo al centro de llamadas de preventa, pero no logro entender mucho. La gestión es confusa. Ala me dice que alguien está vendiendo una entrada para el tercer día, el partido Italia-Polonia. Ella no puede venir; se va a Bruselas por trabajo: ¡liquidación!
El día del partido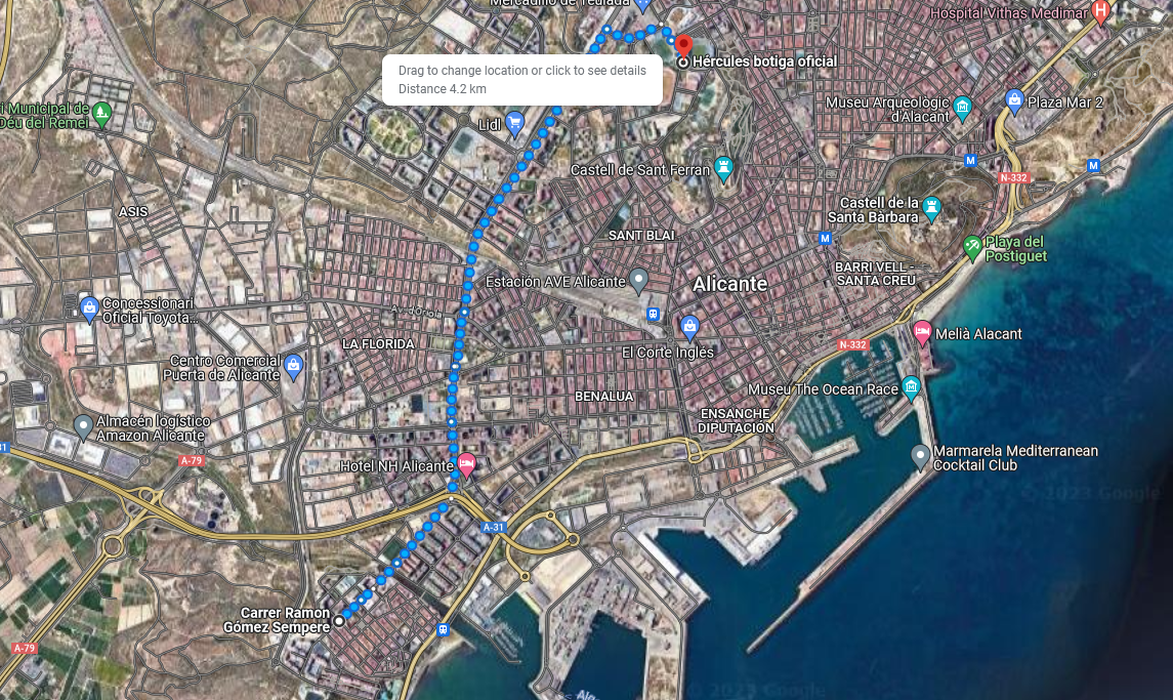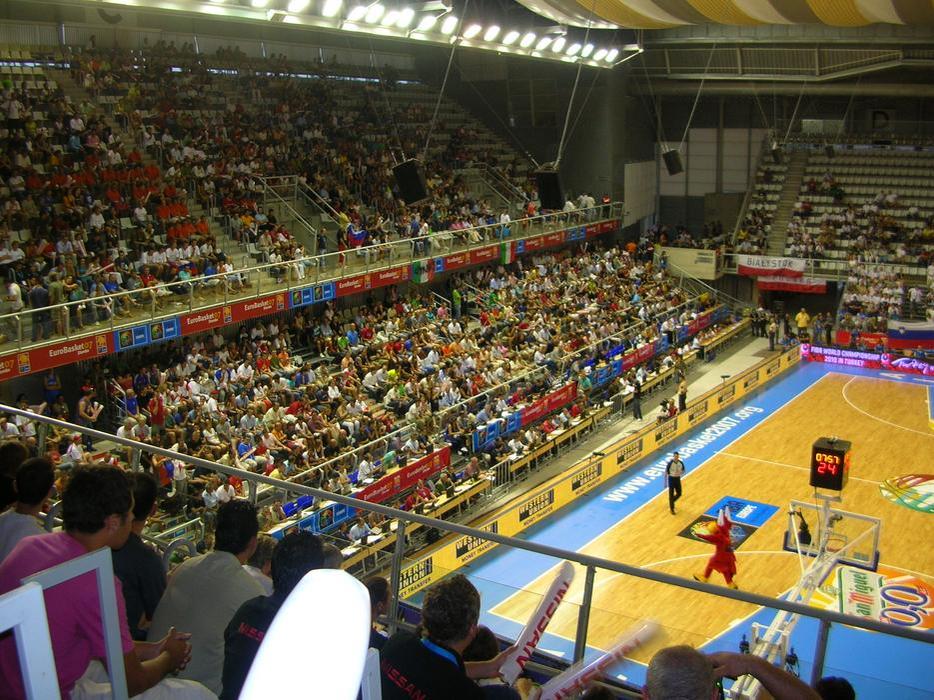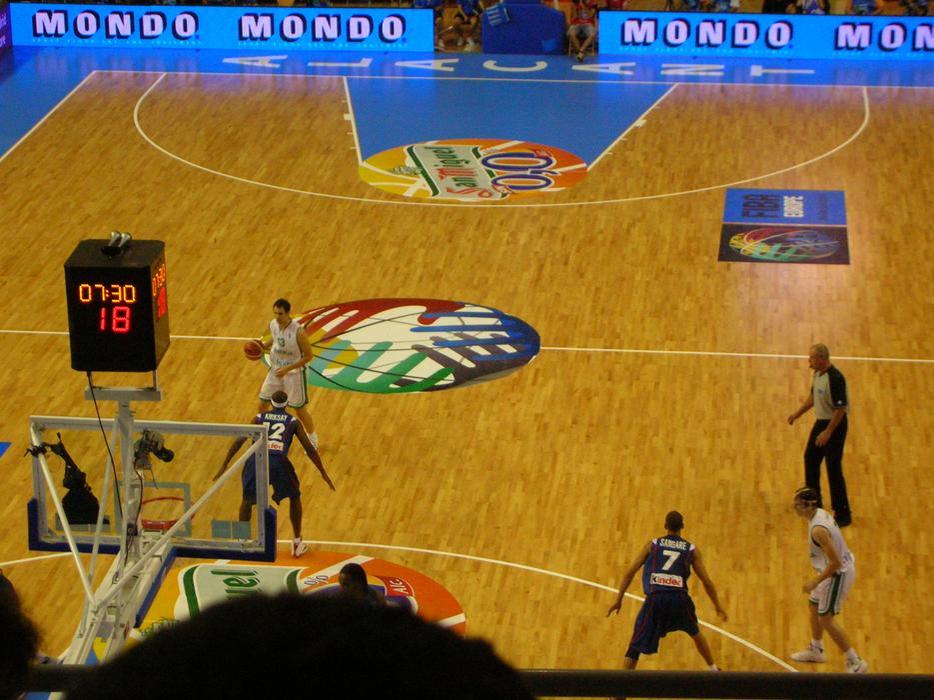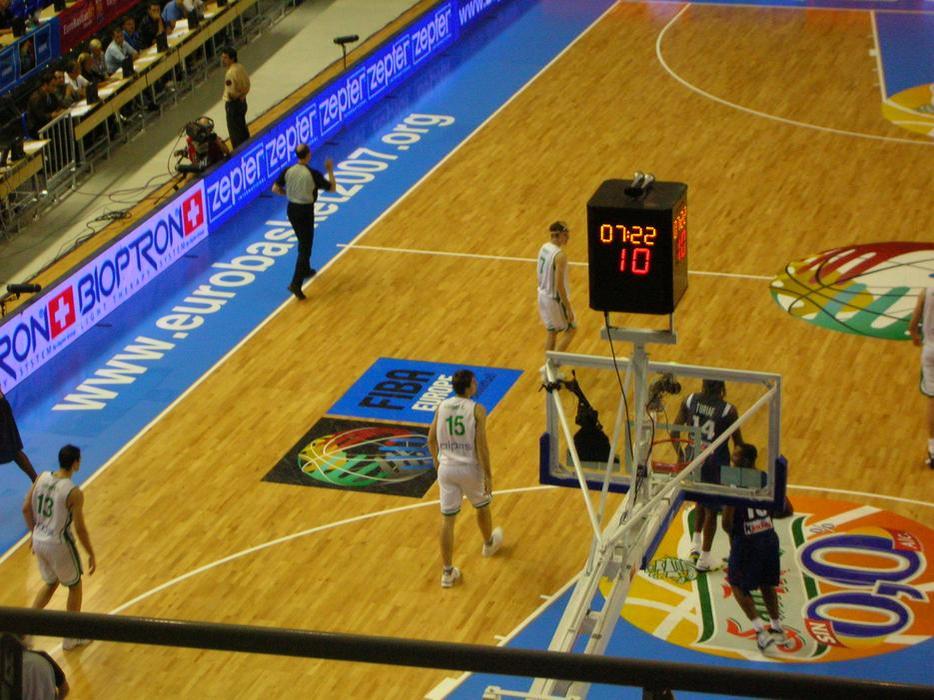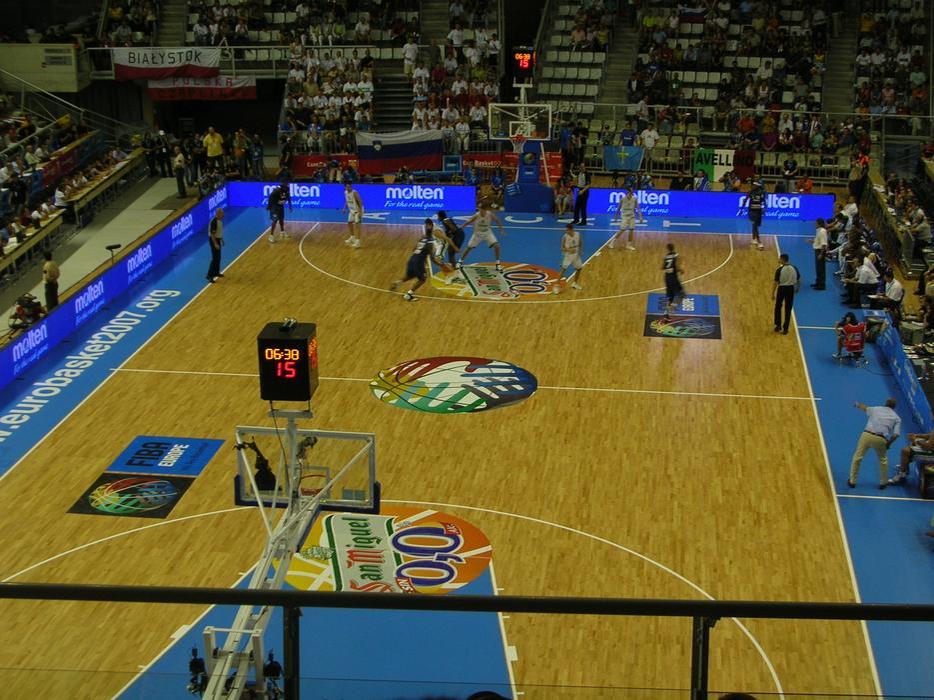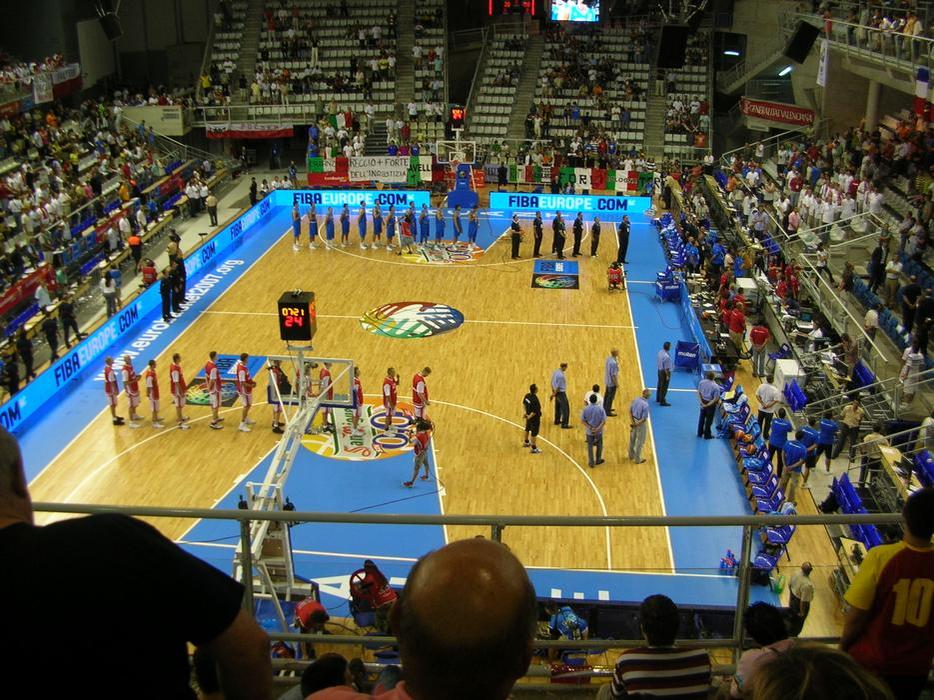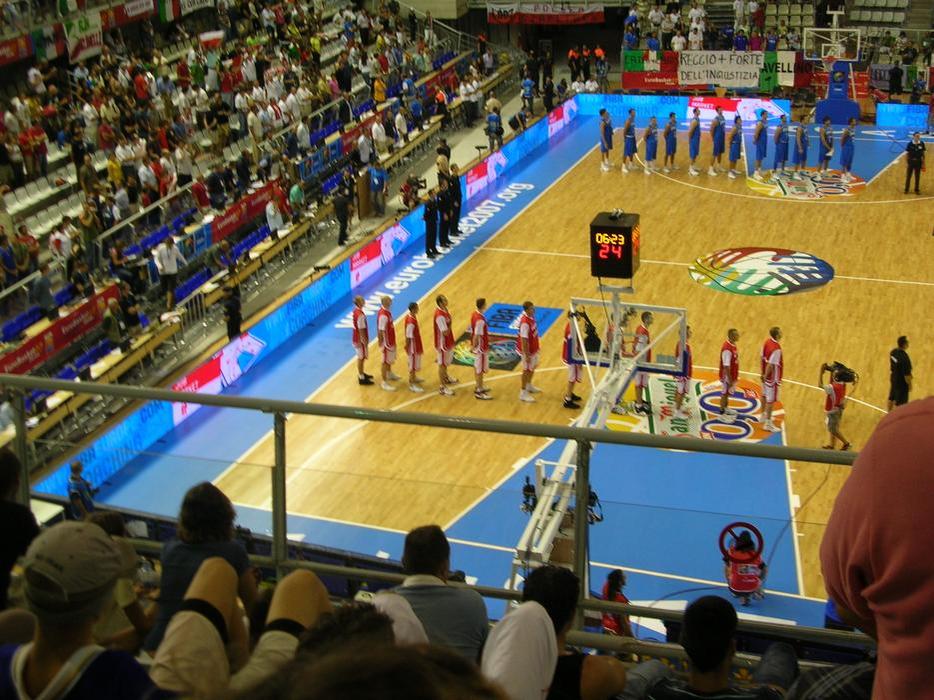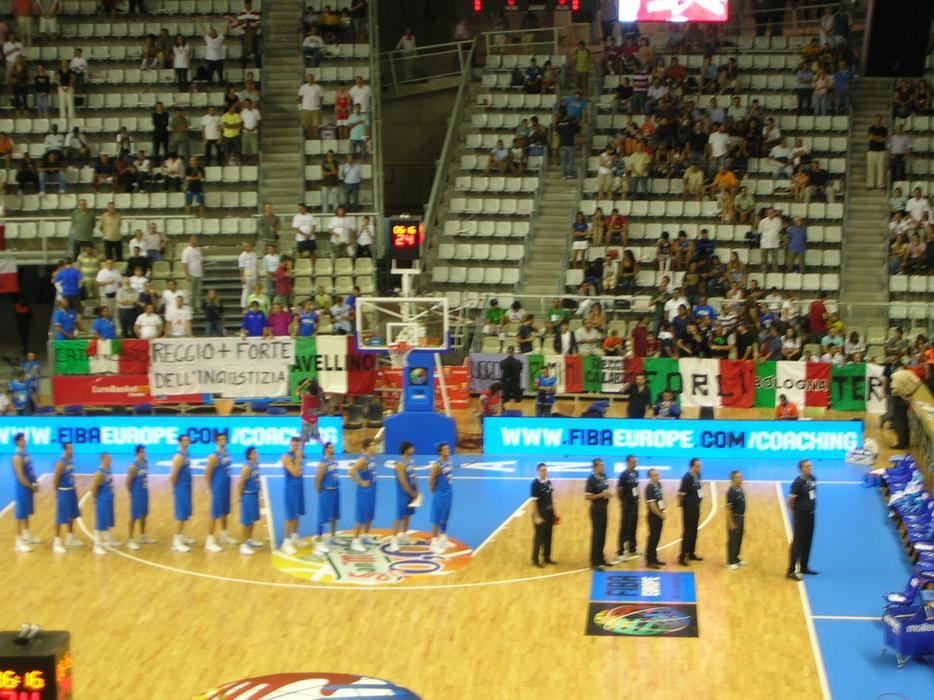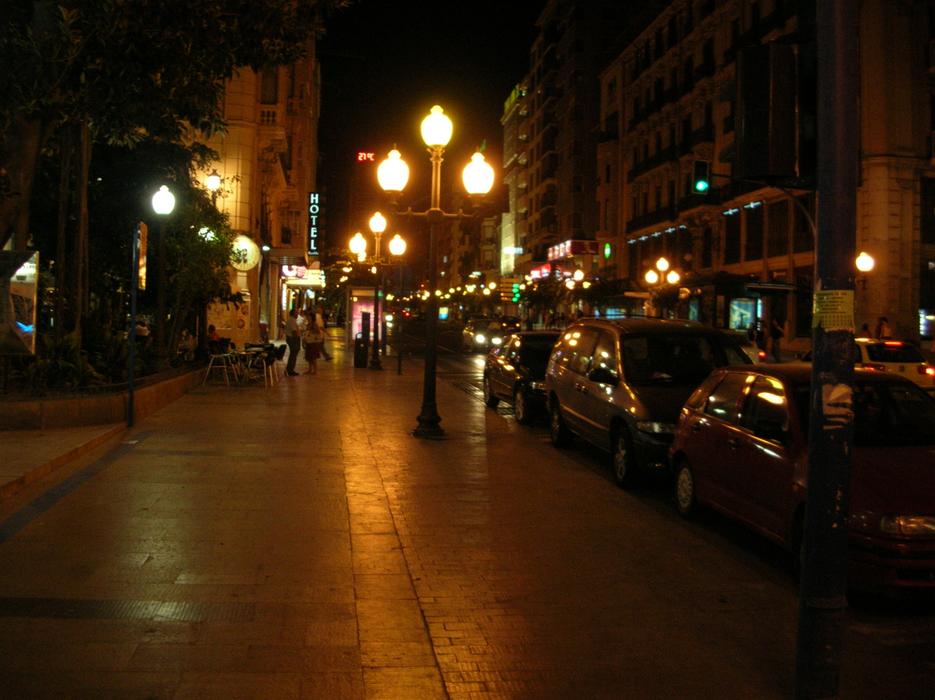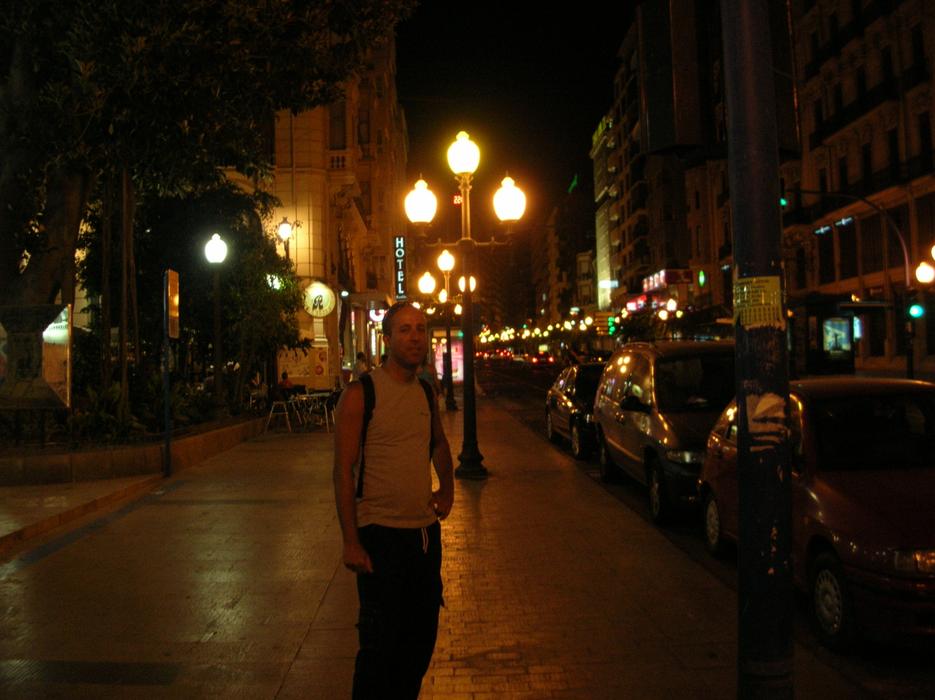 Últimamente, quiero convencerme de que puedo prescindir del coche. Con el carrito de la compra, puedes comprar donde quieras y la ciudad no es enorme. Si quieres, puedes recorrerla a pie y eso también es bueno para ti. Me pongo la mochila y salgo.
Alicante, topográficamente hablando, es fácil de comprender. Es como un semicírculo que descansa en el mar, con la Gran Vía actuando como su concha. Las carreteras de acceso la atraviesan como muchos alfileres clavados en un cojín. Vivo en el más al sur de estos "alfileres". Para llegar al estadio, tengo que caminar por la Gran Vía aproximadamente un tercio de su longitud. Con frecuencia camino hasta el centro de la ciudad, lo cual lleva unos 45 minutos, y según el mapa, el estadio parece estar más cerca. Sin embargo, hoy está lloviendo y la gran arteria no está diseñada para peatones. El estadio está detrás de una larga cuesta cuesta arriba. Caminar en carreteras de flujo rápido es frustrante y hace que el viaje sea desagradable, alejando el destino en la percepción. Seamos honestos: a veces es agradable prescindir del coche, pero no siempre.
Merchandising
Quiero una bandera, una pancarta, algo que me permita expresar mi identidad deportiva. Acostumbrado a los estadios italianos, espero un bosque de puestos, vendedores ilegales, revendedores y vendedores de salchichas típicas que se encuentran en todos los estadios italianos, incluidos los de Milán y Turín, en los días de partido. Todo ello gestionado o controlado por diversos grupos mafiosos. Sin embargo, no hay nada de eso. Solo hay tiendas oficiales que venden mercadería, bebidas y comida. Compro una bufanda tricolor con el logo del Campeonato Europeo y la mascota del torneo para mi sobrina, a precios lejos de estar rebajados. El merchandising es una mina de oro. Puede que aquí no sea Suiza, pero hacen cumplir la legalidad un poco más. Esta es una de las razones por las que los clubes españoles nadan en dinero mientras que los nuestros pasan tiempo mendigando exenciones fiscales, regalos y estadios construidos y mantenidos con el dinero de los municipios, incluidos aquellos a los que no les importa el fútbol, el baloncesto, el rugby o el tiro al plato. Es solo otro precio que pagamos para permitir tanta ilegalidad desbordante e irradicable, aunque no sea el más grande.
El ambiente sereno del baloncesto
En el interior, el ambiente es idílico, casi decoubertiano. Los fanáticos están mezclados, no hay ultras y los ánimos se animan sin animosidad.
Envío un mensaje a Mike. Le digo que encienda la televisión porque estoy en el estadio. Eslovenia va perdiendo, pero jugando bien. Dicen que los chicos eslovenos son un equipo joven lleno de talento. A pocos segundos del final, superan al estelar equipo francés, pero el tiro libre para empatar golpea el hierro. Final emocionante. Los franceses dejan de cantar el famoso himno Seven Nations Army, el popular poporopopo de la victoria en la Copa del Mundo. Pensé que era nuestra prerrogativa exclusiva, pero me equivoqué.
Permaneciendo como entusiasta del fútbol
Nunca he entendido por qué el fútbol no se puede vivir de la misma manera. Siempre dicen: "¿Ves? El rugby es diferente, el voleibol es diferente, el baloncesto es diferente". ¿Cómo puedo culparlos? Es cierto. Si no fuera por el ruido ensordecedor, pensaría que estoy en un teatro. Estos son deportes de nicho con tres millones de fanáticos. Si tuvieran treinta millones y representaran los estados de ánimo profundos de una nación, incluidos los más toscos y resentidos, disfrutando de un nivel casi universal de implicación emocional como es el caso del fútbol, dudo que sobrevivieran.
Disfruto de la celebración, de esta velada diferente, sabiendo que mañana volveré a mis vicios. Los deportes sin "enemigos" son como la cerveza sin alcohol, el café sin cafeína o el té descafeinado: son buenos para ti pero no calientan el corazón. No hay placer en ver partidos sin el sagrado terror de que si el resultado no es el que deseas, al día siguiente los "enemigos" te pondrán en la parrilla y viceversa.
El turno de Italia
Italia comenzó como una de las favoritas, pero con bajones en su forma y lesiones, perdieron terreno en las predicciones y también perdieron los dos primeros partidos. Si pierden, se van a casa. Mike me juró que sería como un paseo en el parque contra Polonia. Pero después de diez minutos, estamos dos puntos abajo. Escribo de nuevo: "¿Estás seguro de que ganaremos?" Él responde después de diez minutos cuando Italia está diez puntos arriba, "¡Estoy viéndolo en la televisión! ¡Muéstrate! ¡Invade el campo!" Hay asientos vacíos en la primera fila cerca de la barandilla que da al campo. No estoy en la cámara, pero la cancha está muy cerca, se pueden ver las caras, escuchar el rebote de la pelota. El evento está cerca; eres parte de él. Italia se desata en una ráfaga de anotaciones. Juegan excepcionalmente bien y acumulan puntos, luego se relajan. Polonia regresa antes de la próxima oleada de Italia. Se acercan varias veces, pero al final pierden. Estamos a salvo, pero por cuánto tiempo, nadie lo sabe. Había esperado que Italia triunfara, como a menudo sucede cuando nadie les daría un penique. La bufanda y la mascota seguramente terminarían en eBay, pero los milagros rara vez vuelven a suceder.
El largo viaje de regreso a casa
Tengo hambre y me dirijo hacia el centro de la ciudad a pie. Tomo la calle equivocada y me desvío un poco. Las calles están vacías, lo cual es algo inquietante, pero no es una ciudad peligrosa. Paso por la estación de Renfe, los ferrocarriles españoles. Burger King está cerrando y no hay mucho más alrededor. Tomo Alfonso Savio y me dirijo hacia la Rambla. Es la calle comercial, llena de actividad durante el día, pero vacía a medianoche. Alicante tiene fama de ser una ciudad que cobra vida por la noche, pero la verdad es que la vida nocturna se concentra en los pocos cientos de metros cuadrados del Casco Antiguo, entre la Rambla y el Castillo. Aprovecho el área desierta para agarrar un cartel de "Alicante a Escena", el festival de teatro amateur. Es para Ala; lo encontrará pegado a la puerta de la cocina cuando regrese de la bulliciosa Bélgica. Ella dice que extraña el fervor cultural de Varsovia y que todos aquí son superficiales, incapaces de encontrar personas intelectualmente comprometidas. Tal vez, pero si ella no las busca, es difícil. Principalmente sale con colegas, lo cual detesto. Es una cosa, una difícil, que mi empleador decida sobre el 90% de mi tiempo, donde tengo que vivir y la mayoría de las cosas que hago. Pero que decidan mis amistades y tal vez incluso elijan a mi pareja, eso es demasiado. Sí, definitivamente soy anticuado y antirreformista.
La Rambla es una frontera, una especie de línea verde entre la parte de la ciudad que prospera durante el día y se vacía por la noche, y el Barrio, que no tiene tiendas ni tráfico y solo se llena después de las diez. Es el único segmento de la ciudad que siempre está poblado las 24 horas del día. Pensé en ir a tomar tapas, pero no se ven tentadoras, así que decido comer un kebab. Hay eslovenos celebrando por todas partes. También hay italianos, pero más discretos, habiendo escapado del peligro por hoy, pero eso no durará mucho. No tengo ganas de caminar de regreso a casa. Después de las 11 PM, los autobuses ya no circulan. Me uno a la cola para tomar un taxi, lo cual lleva media hora. Las calles están vacías y me cuesta seis euros. Otra razón por la que se puede prescindir de un coche aquí. Pero eso merece una publicación aparte.